By Pastor Bob Rasmussen.
Well, in case you did not know, the Queen of England died. I do not get it. 24×7 television coverage, it is estimated that 4.1 billion people watched the funeral. Cost – 7-9 Million, but others suggest it could be way higher, possibly billions with the 10-day mourning and closures of business, use of police and military, etc. Wow.
This is a list of current monarchies. As of 2022, there are 43 sovereign states in the world with a monarch as head of state. There are 13 in Asia, 12 in Europe, 9 in the Americas, 6 in Oceania, and 3 in Africa. As the official notice of the Queen's death makes clear, Charles became king at the moment his mother died. And so that cycle will continue.
We do not have a Queen or a King in America, unless we are saved, amen?
That's the thing about our King, He will never die, He will always be – He will have no successor. They may have had a time of mourning when he went to the cross for our sins, died, and was buried in the tomb. And I know that they had to pay for a tomb – but I hope they got a refund, did they have refunds back then? because He did not stay dead,
All of this earthly treatment of the Queen got me to thinking about the differences within our relationship with our King Jesus. One of the ways that you become a king or queen in the world is all about a bloodline. We see that in the bible as well. But the root of the matter was that it had to be traceable, there could be no doubt that whoever was next in line was who would be crowned. That is the way it is in England. And when Charles passes away, Prince William will take on the role as King, as he is his son.
I am not an ancestry person, it seems to be a lot of work. I have seen Cindy Cole-Harrison posting on some of the discoveries she has found about her family, and it is very interesting indeed. But what I do know is this, there is a bloodline for all of us with Jesus – one that cannot be broken. And that is the sacrifice of His blood for the atonement of our sins. Without that blood, we would have no access to our Father. Jesus tore that veil, and gave us the opportunity to have relationship with him.
I can tell you right now that I could buy a plane ticket, fly to England, go to the castle or residence, whatever it is and there is no way I am going to get to see the new King of England. I doubt I could pass a background check, let alone just walk up to him and say hey, how is it going?
Not so with Jesus.
Jesus made a way for us to have a clean background check so that we can BOLDY go to Him. When I think about the kings on earth and all that pomp and circumstance compared to how I can approach Jesus, it just awes me. Do not get me wrong, I will pray on bended knee in reverence for who he is. I am in awe of all He has done in my life and the lives of others around me. He created everything! And I will give Him glory and honor for all He has done. But I love, love, love that I can simply speak to him with a contrite heart and let him know what I am feeling, and what my concerns are.
Philippians 4:5 Let your moderation be known unto all men. The Lord is at hand. 6 Be careful for nothing; but in every thing by prayer and supplication with thanksgiving let your requests be made known unto God. 7 And the peace of God, which passeth all understanding, shall keep your hearts and minds through Christ Jesus.
And I love that the scripture here is active, it does not say that the peace of God might, or the Peace of God someday, no it says that the peace of God shall keep your hearts and minds– how awesome is that.Yes, we have a King that cares individually for His people, knowing everything about us, about me and about you.
I have watched a lot of movies with Kings and Queens, and there is always drama and struggles and families struggling for their power and inheritance. Diana had mentioned there is actually a show called "The Royals" which I did not know about and a brief description from the Interweb says this:
Power is everything, there are no limits, and trust is nonexistent for the royal family featured in this drama series. Queen Helena and King Simon try to present an aura of class and grace to the public, but the truth of the family's life is much different, as tainted politics and family issues threaten to cause chaos and turmoil for the royals.
That is a kingdom I do not want to be a part of, and in fact the Kingdom of Christ is so much different. First and foremost, it's different for us, we know Jesus has all authority and power.
Ephesians 1:19 And what is the exceeding greatness of his power to us-ward who believe, according to the working of his mighty power, 20 Which he wrought in Christ, when he raised him from the dead, and set him at his own right hand in the heavenly places, 21 Far above all principality, and power, and might, and dominion, and every name that is named, not only in this world, but also in that which is to come: 22 And hath put all things under his feet, and gave him to be the head over all things to the church, 23 Which is his body, the fulness of him that filleth all in all.
Jesus, raised from the dead, with all authority and power, to rule forever has such a different plan for us. And Jesus does want us to follow Him and His Word, but He did not make us puppets. Jesus who is arguably the most powerful force in the universe, gave us free will. Free will to choose to believe and receive Him, and free will to reject Him as well. Unlike earthly kings, whose kingdoms are defined by borders with other countries, the Kingdom of God is more about the hearts of His people.And Jesus does want everyone in His kingdom.
2 Peter 3:9 The Lord is not slack concerning his promise, as some men count slackness; but is longsuffering to us-ward, not willing that any should perish, but that all should come to repentance.
And yes, Jesus is God, but he came to this earth to do what none of us could do. And when He was here on this earth, he experienced some of the same things that we have all been through. He knows what it is to be broken. He knows what is like to be lied to. He knows what it is to be hurt. He knows what it is like to be betrayed. He knows what it feels like to be hated.
Galations 4:4 But when the fulness of the time was come, God sent forth his Son, made of a woman, made under the law, 5 To redeem them that were under the law, that we might receive the adoption of sons. 6 And because ye are sons, God hath sent forth the Spirit of his Son into your hearts, crying, Abba, Father. 7 Wherefore thou art no more a servant, but a son; and if a son, then an heir of God through Christ.
Hallelujah and amen, we are joint heirs with Jesus.Sometimes I have to remind myself that I truly am a son of God and that I have access to all that is available to me.
Now, I do not know that much about anything of any of the earthy rulers that are here on earth now. But I can make some assumptions. Can you imagine, if you will a time in the past – with a King in a castle in the past. It's 3 o'clock in the morning, maybe 3:30 – and one of the King's guards who is guarding the king, would go to the Kings chambers and knock on the door, and say – excuse me your majesty, could I have me a drink of water?
That guard would probably be put in jail, or who knows, in older days he might get his head chopped off. But as a child of God, I can go to Him anytime, and say, Lord I thirst without fear of rejection, but rather with a sense of expectation that He can and He will fill me.
John 7:37 In the last day, that great day of the feast, Jesus stood and cried, saying, If any man thirst, let him come unto me, and drink. 38 He that believeth on me, as the scripture hath said, out of his belly shall flow rivers of living water.
And we can go to God, and this vessel that we are, with the access Jesus made, we can get filled up with His love, so much so that we are able to love others as Christ loved. God can fill us to overflowing so that we can share the same love He has for us with others.
Jesus does not increase His Kingdom with force, He does it with love – and he can use us. We are made in His image. When we have accepted Jesus into our hearts we are changed.
2 Corinthians 5:17 Therefore if any man be in Christ, he is a new creature: old things are passed away; behold, all things are become new.
I do not know about you, but I am so grateful I am not the same as I was. The cross is so powerful. And when I first came to Jesus, the cross did show me my sin, my shame, my guilt. But you know what else I received – worth. It was not just about forgiveness, praise God for forgiveness! But in a world that does not seem to care, it showed me I had some value, some worth, to someone – and his name is Jesus and when we encounter God's grace, we are never the same. We know that something is different and it should drive us to really try to be like Him.
We can be the image bearers of Jesus in a lost world. I know sister Bonnie did a bible study using mirrors. I like the imagery of this that we are like an angled mirror, reflecting the love and the compassion of Jesus in a cold and desperate world. When people see us they should see Jesus as well. What reflects back up to heaven is praise, worship and gratitude for the love of God. The biggest problem in the world today is not in the headlines. There's Ukraine and Russia, Monkey Pox, the upcoming election, gas and food prices, there are too many to list. The real issue is that men and women are living for themselves instead of Gods image and His glory. The world is indeed, crazy. Putin alluding to using nuclear weapons in the Ukraine is frightening. It is hard to feel secure at times in this world.
But the security of salvation is a very powerful thing. Being saved by Jesus is something that unlike other things – jobs, careers, friends, family, peace – all of these things can change– Friends can abandon you, you can lose your job, even family can walk away, wars may come. But Jesus will never quit in your relationship with Him. Jesus will not fail in that relationship. And Jesus, the King of the universe, wants you in that relationship.
We have some talented children who are very artistic. I know Jeff and Carmen dabble in drawing and painting, and honestly it is pretty good. This image is a piece of art by someone who took broken pieces of glass, and created something pretty cool. But God, when we come to him, can take every broken piece of us, every broken relationship, every argument, every failure, every sin to make something good, in His image, for His Kingdom, and for His glory.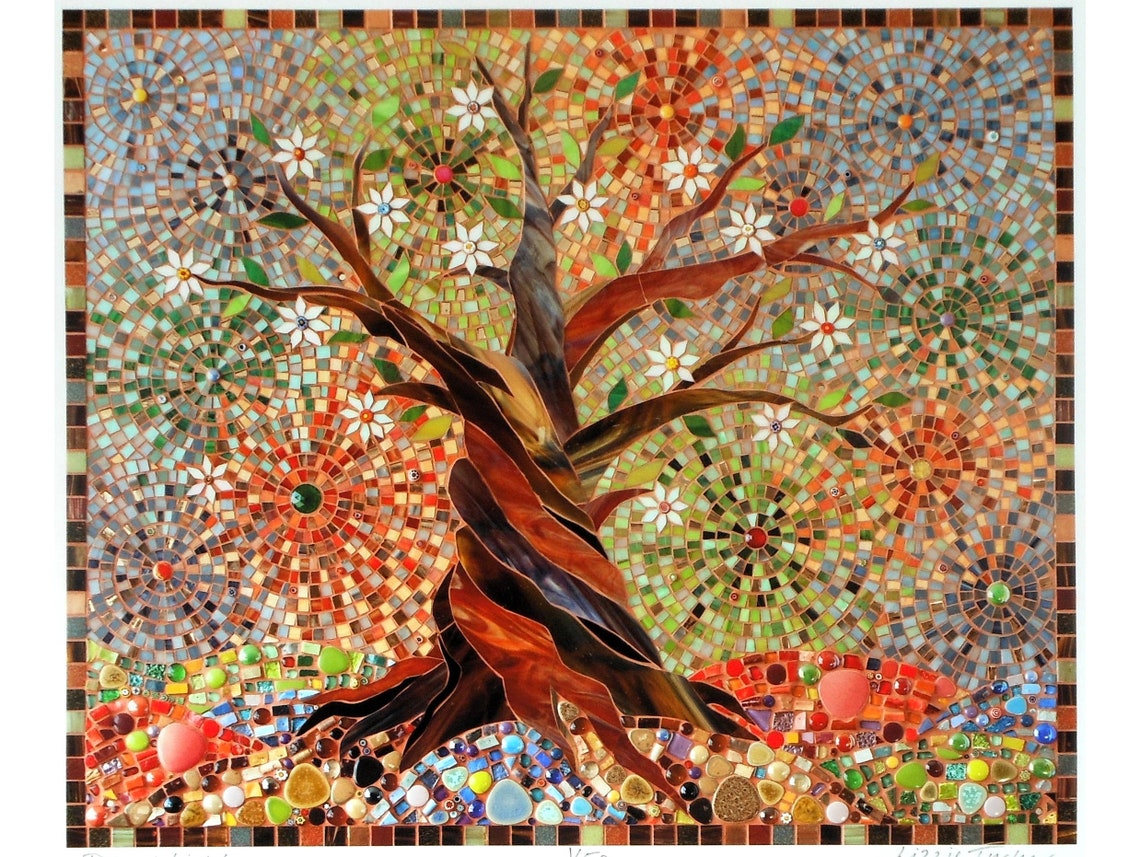 The victory I have in my life is not my circumstances, it is indeed in His presence. He wants to be with us and walk with us – He is the one that said follow me, and I am going to take Him at His word.
Matthew 16:24 Then said Jesus unto his disciples, If any man will come after me, let him deny himself, and take up his cross, and follow me. 25 For whosoever will save his life shall lose it: and whosoever will lose his life for my sake shall find it. 26 For what is a man profited, if he shall gain the whole world, and lose his own soul? or what shall a man give in exchange for his soul? 27 For the Son of man shall come in the glory of his Father with his angels; and then he shall reward every man according to his works.28 Verily I say unto you, There be some standing here, which shall not taste of death, till they see the Son of man coming in his kingdom.
He is not waiting for the perfect version of you, that is all clean and tidy. He is not waiting for the version of you that is doing everything perfect – he wants the you that you are now, bumps and all. I know of no King that would be willing to do that!
Unlike how I think human kings work, we serve a King that wants the best for all in His Kingdom, and in so, has bequeathed upon us the authority to make his hope for heaven and earth a realization.
1 Peter 2:9 But ye are a chosen generation, a royal priesthood, an holy nation, a peculiar people; that ye should shew forth the praises of him who hath called you out of darkness into his marvellous light; 10 Which in time past were not a people, but are now the people of God: which had not obtained mercy, but now have obtained mercy.
We are royalty, we are part of the family. We are the sons and daughters of God. Sometimes I may not feel like I am part of royalty. Sometimes I may not feel I am part of the family, but it does not change the fact that I am – not because of anything that I did, but because of what He did.
God has selected you and me out of all the people groups of the world for a very special reason, and we have been anointed with the oil of gladness to serve as His representatives on earth. We have been selected, called, chosen, consecrated, and set apart for a very particular purpose – "that we may proclaim the excellences of Him, Who called us out of darkness into His marvelous light."
Isaiah 61:61 The Spirit of the Lord God is upon me; because the Lord hath anointed me to preach good tidings unto the meek; he hath sent me to bind up the brokenhearted, to proclaim liberty to the captives, and the opening of the prison to them that are bound; 2 To proclaim the acceptable year of the Lord, and the day of vengeance of our God; to comfort all that mourn; 3 To appoint unto them that mourn in Zion, to give unto them beauty for ashes, the oil of joy for mourning, the garment of praise for the spirit of heaviness; that they might be called trees of righteousness, the planting of the Lord, that he might be glorified.
As we journey through this life of pain and sorrow, we need to proclaim to the world, in thought, with our words, our actions, our attitude, and our motive, the amazing love of our heavenly Father Who redeemed us from the darkness of sin and death – into the glories of His life and light, in Christ Jesus.
My apologies to the monarchy of England, I meant no disrespect. I am pretty sure I do not have to worry that someone in England will hear this and want to start a war. But we already beat them once anyways. But I did want to mention one thing more about the queen. Even a queen needs a savior. I looked up a few things she had said about God:
2014 "For me, the life of Jesus Christ, the Prince of Peace, whose birth we celebrate today, is an inspiration and an anchor in my life. A role model of reconciliation and forgiveness, He stretched out His hands in love, acceptance, and healing. Christ's example has taught me to seek to respect and value all people, of whatever faith or none."
2022 "Throughout my life, the message and teachings of Christ have been my guide and in them I find hope."
If you want to be part of Jesus's Kingdom, we believe in Acts 2:38
Acts 2:38 Then Peter said unto them, Repent, and be baptized every one of you in the name of Jesus Christ for the remission of sins, and ye shall receive the gift of the Holy Ghost.